Par amk, 11/04/2023
Mobile Phone Guide for Your Elderly
Elders should consider purchasing their handset not only because it is fashionable but also because it is functional. In the modern world, we require something to assist seniors in their daily lives. However, today's smartphones need to be simpler for them to use. So, before giving your grandparents a mobile device, do some research.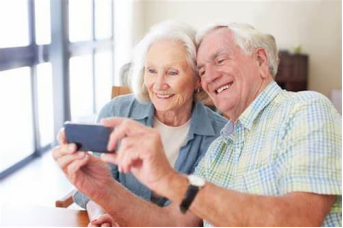 Why Use Mobile Phones?
Phones are more than just a source of entertainment; they are also effective for communication and other activities. Although the elderly may not realize it, the following are some of the advantages that these devices can provide:
1. Calls or Speed Dialing
Because many older adults have difficulty writing or sending text messages, the quickest way to communicate is by phone. Fortunately, this feature is available on all mobile phones. Furthermore, seniors can make emergency calls here, such as dialing 911, if they require assistance. The quickest way for them to contact their loved ones is to use speed dials so that they do not have to search for their names in their phonebooks. Simply pressing the numbers longer will allow you to call the specific contact you assigned to that number shortcut.
2. Controls Smart Devices
It may appear simple for younger people to get up and use their smart devices, but for elders who have difficulty using one, the smartphone is a big help. They can operate complex devices such as smart locks and their homes' thermostats. It is incredibly convenient to allow them to do minimal work at the tip of their fingers.
3. Use GPS
Another advantage of using a mobile phone for the elderly is the ability to use its GPS for tracking lost phones, getting directions for a drive, or even looking for great routes for a good walk. It is simple for them to follow instructions provided by phones such as the honor 10. It may not be their phone's best feature, but having one is very reasonable, especially if they need help with directions.
4. Date and Time Provider
Remembering the exact date and time can be difficult, especially as you get older. Admit it or not, we sometimes forget the same time and date, but thankfully, mobile phones allow you to stay up to date. This device makes life easier for the elderly because they can quickly learn it, eliminating the need to consult wristwatches or physical calendars.
5. Video Calling Other People
Mobile phones have allowed you to see your loved one virtually. This feature is also appreciated by the elderly, who can now see other people on-screen even if they are thousands of miles apart. It is convenient, and numerous apps, such as Facebook Messenger, Skype, or Facetime, will allow them to do so.
6. Internet Access
For example, smartphones will allow your elderly relatives to access the internet. Even if they are unfamiliar with navigating, I am confident they understand this purpose. Furthermore, you may need to realize that over time, your grandfather or grandmother will have a wealth of knowledge due to the various articles and facts they can learn while using this tool.
7. Electronic Tacking
The smartphone feature makes it easier and less exhausting to look everywhere. Aside from GPS, you can track your devices using your phone like Honor 10. For example, if you misplace your glasses or the remote control, you can attach a tracking tile to the items and let your smartphone do the work.
The Bottom Line
Smartphones allow older people to stay current while also giving them the capacity to live a self-reliant life and appreciate the advancement and convenience that this device provides. So what are you waiting for? Buy one for your parents!